Are You Looking for Best and Cheap Hosting Provider That Supports The Latest Version of Plesk Control Panel (Odin Plesk 12.5)?
Why You Should Plesk for Your Control Panel?
Plesk is designed to help web administrators, application developers, web professionals, hosting service providers, and infrastructure providers create targeted solutions. Parallels Plesk Control Panel is the leading multi-platform control panel designed to provide a simple, convenient way to manage your web services.
– Easy
The Plesk Control Panel reduces operating costs as customers will be able support themselves. The key auto-update mechanism, auto-component updater, migration manager and a Web-based installation for quick deployment ensure you won't spend hours on the phone providing support.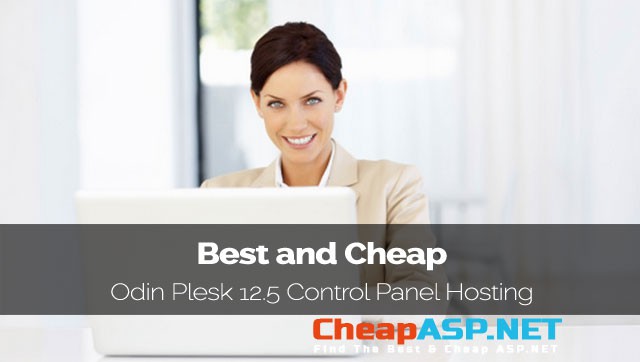 – Profitable
The Plesk Panel is the only control panel which offers the direct availability of hundreds of applications for end users. With terrific add-ons like Parallels Plesk Billing for invoicing or Parallels Plesk Sitebuilder for website editing and management — you can truly offer an all in one solution to your customers.
– User-Friendly Interface
Plesk's interface gives you the option to create and manage your own skins in the browser-based interface. In addition the Admin can act as the default client for the entire server making shared hosting setup even easier.
– Migration Manager
Modular in architecture and employing different plug-ins the Migration Manager allows users to quickly migrate accounts from cPanel, Ensim, Cobalt, old Plesk versions, In-house systems, or any other system to their new Plesk server.
– Application Vault
Plesk includes a new customizable repository of site applications with the ability to add, deploy, configure and remove applications for any domain on the system (CMS, forums, counters, chat software) with one click.
What's New In The Latest Version of Plesk Control Panel (Odin Plesk 12.5)?
The latest version of Plesk Control Panel is 12.5. In this version are a few highlights of what you can expect to see when testing the Plesk preview release:
Improved core administrative routines and overall user-experience – Backups, migrations, and site-apps now work better, run faster, and are more reliable.
Increased supportability for Plesk administrators – Servers administrators of all skill levels will be better equipped to maintain and update Plesk servers.
Enhanced key features for the web developer audience – Enhanced user-experience added for the core needs of web developers who use web servers to develop, deploy, and support SAAS applications.
Best and Cheap Hosting Provider That Support Odin Plesk 12.5 Control Panel
ASPHostPortal.com is proudly to be the No.1 hosting service provider compared from our visitors feedback and rating! ASPHostPortal.com delivers affordable hosting technology for as low as $1.00 per month. Not only do they deliver reliable load-balanced cloud architecture, but they guarantee their performance with a 99.9% uptime promise, and a 30 day money back guarantee. ASPHostPortal.com can help its clients to migrate existing websites to their servers for free, and they provide extensive web tools for their clients, including the top-rated Plesk control panel. And that's not further not enough though. 24/7 server monitoring!
HostForLIFEASP.NET web hosting company has been able to swiftly growing in the hosting industry because they deal specifically with one type of hosting, Windows cloud hosting services. They offer various services: Windows 2008 / 2012 Hosting, Silverlight 5 hosting, Web matrix hosting, SQL 2008 R2 / 2012 / 2014 hosting, the latest ASP.NET MVC 5.2 / 6 hosting and the latest ASP.NET 4.5.2 hosting. As one of our own site hosted with HostForLIFEASP.NET for testing, the hosting uptime is basically satisfied. Their network uptime is guaranteed throughout which means that at no one time will a clients web site be up and running.
DiscountService.biz's cloud hosting platform provides automated provisioning of infrastructure over the Internet. Customers can provision and scale virtual and physical servers, storage, networking, load balancing, and firewalls in real time across multiple data centers using a web-based management console or DiscountService.biz's API. They offer Windows cloud hosting start from $3.00/month to all their customers.