Best and Cheap PHP 7 Hosting
What is New in PHP 7?
Introducing PHP 7 – a revolution in the way we deliver applications that power everything from websites and mobile to enterprises and the cloud. This is the most important change for PHP since the release of PHP 5 in 2004, bringing explosive performance improvements, drastically reduced memory consumption, and a host of brand-new language features to make your apps soar.
The goal of PHP 7 was to free up the space to enable improvement, so it was necessary to get rid of many deprecated functionalities and old and unsupported Server APIs and extensions.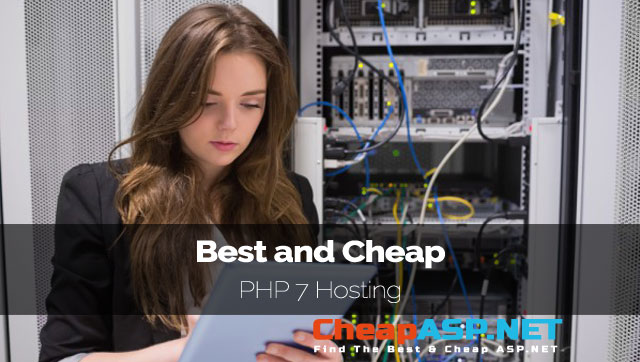 Huge Performance Improvements:
PHP has always been criticized for performance-related issues, which is greatly improved in PHP 7. Even, the poor performance of PHP prompted Facebook to build HHVM – a virtual machine designed to maximize the performance of PHP based applications. Since the new version of PHP is based on the PHPNG project (PHP Next-Gen), it gives up to 50% boost to real-world apps and performs faster than HHVM.
Twice as fast as Previous Versions:
PHP 7 is almost 2X faster than PHP 5.x. It not only executes your code faster but also requires fewer servers to handle the same amount of requests per second. As an example, the WordPress homepage now requires 72% lesser CPU instructions to execute than before. That's because PHP 7 receives a brand new version (refactored) of Zend Engine, w2hich adds a significant speed enhancement to the language.
New Operators:
PHP 7 introduces two new operators: Spaceship (Combined Comparison) and Null Coalescing. Where the Spaceship operator (<=>) makes your chained comparison more concise, on the other hand, Null Coalescing (??) operator is used to check if something exists. However, these both tasks could be accomplished before, but probably not in all conditions.
Return & Scalar Type Hints:
In the new PHP version, developers would be able to use Booleans, Strings, Floats and Integers as type hints for functions. Also, they'll be allowed to declare the return type of a function. This will save them passing and returning wrong types from functions, which may lead to unpredictable behavior in code.
Engine Exceptions:
Handling existing fatal and recoverable fatal errors has always been a herculean task for PHP developers. But now, exceptions implemented in the brand spanking new Zend engine will facilitate error handling in your application. The new Engine Exceptions will replace these kinds of errors, making it possible for developers to catch all fatal errors and take appropriate action immediately.
Consistent 64-Bit Support:
Even though the native environment of PHP is Linux, but still you can run it on a Windows-powered system. Since the previous versions of PHP doesn't have support for a large file or 64-bit integer, the x64 builds of PHP for Windows have been considered experimental yet. To the contrary, version 7 features consistent 64-bit support that enables you to confidently run PHP on a 64-bit Windows system.
Group Use Declarations:
PHP 7 introduces a new concept, called Group Use Declarations, which dramatically improves the implementation of PHP namespace. The new syntax makes it possible for you to import multiple classes from the same namespace. Needless to say, this new feature will save you a lot of typing time and also make your code shorter and readable.
Supports Anonymous Classes:
Like other programming languages such as Java and C#, the new version of PHP enables you to use anonymous classes in your code. An anonymous class is a class with no name. When used properly, anonymous classes can not only improve your coding but also can speed up execution time to a great extent.
Abstract Syntax Tree (AST):
Another big change made to PHP core is the use of Abstract Syntax Tree (AST) as an intermediary stage in the language compilation process. This improvement would mainly be visible to developers and not have any direct impact on userland code. There are several advantages of using AST, including the potential for more optimizations, the scope for utilizing tools like static code analyzers and better code quality etc.
Deprecated Items Removed:
To make PHP even faster, a number of deprecated functionalities and dead or unsupported Server APIs and extensions have been eliminated from the version 7. Some of the items that are removed from PHP 7 are PHP4 style constructors, ASP style tags, ereg and MySQL extensions etc. For more details, you may check out removed deprecated functionalities in PHP7.
But, where is PHP 6?
After getting acquainted with the exciting features of PHP 7, you would definitely want to know why PHP moved to version 7 from version 5. What happened to version 6? Well, PHP 6 was an experimental project that was officially started in 2005 and unfortunately abandoned in 2010. One of the main reasons behind the termination of version 6 was technical difficulties faced by PHP core developers during the implementation of language-integrated Unicode.
Meanwhile, people around the web adopted the name PHP 6 and started writing books and developing resources related to version 6. Since there might be confusion between the former attempt and the current development work, the PHP core team was compelled to seriously think about the name of the new major release. And finally, the development team decided to skip the logical number 6 and launch the new version under the name of PHP 7.
What is Linux Server?
A Linux server is a high-powered variant of the Linux open source operating system that's designed to handle the more demanding needs of business applications such as network and system administration, database management and Web services.
Linux servers are frequently selected over other server operating systems for their stability, security and flexibility advantages. Linux is considered the best option for operating servers because there is no need for a graphical user interface; all commands can be executed via command prompt. This helps users to attain maximum system performance.
Stability
Linux systems are well known for their ability to run for years without failure; in fact, many Linux users have never seen a crash. That's great for users of every kind, but it's particularly valuable for small and medium-sized businesses, for which downtime can have disastrous consequences.
Security
Linux is also innately more secure than Windows is, whether on the server, the desktop or in an embedded environment. That's due largely to the fact that Linux, which is based on Unix, was designed from the start to be a multiuser operating system. Only the administrator, or root user, has administrative privileges, and fewer users and applications have permission to access the kernel or each other. That keeps everything modular and protected.
Hardware
Whereas Windows typically requires frequent hardware upgrades to accommodate its ever-increasing resource demands, Linux is slim, trim, flexible and scalable, and it performs admirably on just about any computer, regardless of processor or machine architecture.
TCO
There's no beating Linux's total cost of ownership, since the software is generally free. Even an enterprise version purchased with corporate support will be cheaper overall than Windows or other proprietary software, which generally involve user-based licensing and a host of expensive add-ons, especially for security.
Freedom
With Linux, there is no commercial vendor trying to lock you into certain products or protocols. Instead, you're free to mix and match and choose what works best for your business.
How to Choose Best and Cheap PHP 7 Hosting in Linux Server
How to choose the best and cheap PHP 7 hosting? Choosing the best and cheap PHP 7 hosting is not a simple task especially with low price offers. You need to take a large number of factors into consideration, including the PHP 7 compatibility, usability, features, speed, reliability, price, company reputation, etc. Therefore, we have established this PHP 7 review site, which is designed to help you find the best and cheap PHP 7 hosting within minutes, based on our specialized editors' PHP 7 hosting experience and real customers' feedback.
Best and Cheap PHP 7 Hosting Provider Recommendation
The ASPHostPortal.com's hosting platform on Linux Server is compatible with PHP 7 hosting. Of course, you can feel very comfortable with their hosting service. Their best and cheap PHP 7 hosting plan is starting from $2.50/mo only. And with their promo code, you can get free domain too. Not only that, they also offer 30 days money back guarantee. Their servers are 99.99% uptime, it is important think that you need for your PHP site, so your site is never down.
ASPHostPortal.com provides PHP-optimized managed hosting solutions for online merchants of all sizes. Since 2008, they've been committed to delivering superior performance, reliability, security, and support to their clients. Every PHP hosting deployment is engineered from the ground up to be responsive, scalable, and cost-effective.
UKWindowsHostASP.NET offers PHP 7 hosting. They offer flexible PHP 7 hosting to new as well as existing customers. Given the scale of their environment, they have recruited and developed some of the best talent in the hosting technology that you are using. Their team is strong because of the experience and talents of the individuals who make up UKWindowsHostASP.NET.
HostForLIFEASP.NET prides itself in providing web hosting with a rare combination of unmatched reliability, quality and affordability. HostForLIFEASP.NET's edge is derived through unparalleled company management and a culture of employee driven initiatives. With their fully support on Linux and PHP in their Linux CentOS Server, HostForLIFEASP.NET is the best choice to host your PHP 7 hosting. They are so confident in their hosting services they will not only provide you with a 30 days money back guarantee, but also they give you a 99.9% uptime guarantee. Their PHP 7 hosting plan is starting from €2.00 /mo.
WindowsASPNETHosting.IN is an advanced web hosting company specializing in PHP hosting solutions. WindowsASPNETHosting.IN combines the fastest, most reliable hardware in the industry with the highest performing infrastructure, to create an optimal environment for hosting PHP sites. Backed by a superior 24/7 customer support team, the WindowsASPNETHosting.IN platform maintains an unsurpassed level of quality, innovation and performance in order to provide customers reassurance that his/her site will be supported by the hardware and resources needed to maximize revenue.
DiscountService.biz's cloud and dedicated web hosting packages offer flexible, fast and secure support for your PHP site hosted in their state of the art Australia data centers. With reliable handling for any volume of traffic their PHP web hosting is fast, dependable and secure.