Best and Cheap PrestaShop v1.6.1.7 Hosting
What is PrestaShop?
PrestaShop is an open source eCommerce solution. It comes with a variety of tools necessary for building a successful online shop. To create an online store with PrestaShop you need reliable web hosting services.
PrestaShop is free software as it's specified in the GNU General Public License and officially started in August 2007 for small and medium-size businesses. The software, based on the Smartly template engine, nowadays is used by more than 100,000 shops all over the world.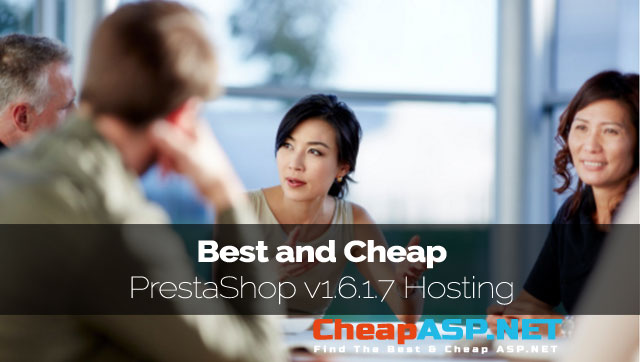 What is New in PrestaShop v1.6.1.7?
PrestaShop 1.6.1.7 is now available.
Fixed bugs:
FO: Prevent customers from viewing all voucher codes.
FO: Fix rounding error in ProductController.
FO: Add a new hook on cart product line.
CO: Fix bad discount computation when multiple tax rates involved
CO: Fixed cart rule removal with gift product
BO: Fix CSV import on PHP 7.
…and several other fixes.
Since version 1.6.1.7 is a "patch" update to version 1.6.1.0, upgrading from that version will be as smooth as silk for everyone: features will work better, and modules & themes which worked fine on 1.6.1.0 will work just as well with 1.6.1.7.
PrestaShop is Packed with Features
PrestaShop comes packed with over 275 features out-the-box, and features are improving and increasing with every new version.
Key features include
Product Management
Unlimited categories, products and attributes
Product comparison
Quantity / Stock management
Multiple images with lightbox
Product image zoom
Cross-selling / Related products
Customer product reviews
Store Management
Custom store design with PrestaShop Themes
Multiple 'employees' with customised permissions
Custom invoices
Affiliate programme
SEO
'Friendly' URL structure
Google Sitemaps
Performance settings for maximum speed
Meta tag support on everything
Checkout
One page or multi-page checkout
Guest checkout
Gift messages / wrapping
Saved shopping carts
Shipping
Shipping fees by weight or price
Billing / Shipping addresses
Unlimited carriers and destinations to fine-tune your shipping options
Payments
Integrates with any payment provider through modules (many included).
Tax by country, states and counties
Payment gateway filtered by currency
Marketing
Automated follow-up emails
Coupons and Vouchers
Newsletter subscription
Loyalty programme
Refer-a-friend
Customers
Customer groups with custom pricing, shipping settings etc
Order tracking
Returns management
Guest account to full account conversion
Translations / Localisation
Available in 41 languages
Allow customer to choose language
Unlimited currencies with exchange rate sync
Geolocation – settings based on your customer's location
Address format for customer's country
Security
PCI Compliant
SSL Support
Secure admin
Encryption
Analytics / Reporting
Track visitors
Track orders and sales
See best sellers, most viewed products etc
How to Find Best and Cheap PrestaShop v1.6.1.3 Hosting?
How to choose the best and cheap PrestaShop v1.6.1.7 hosting? Choosing the best and cheap PrestaShop v1.6.1.7 hosting is not a simple task especially with low price offers. You need to take a large number of factors into consideration, including the PrestaShop compatibility, usability, features, speed, reliability, price, company reputation, etc. Therefore, we have established this PrestaShop review site, which is designed to help you find the best and cheap PrestaShop hosting within minutes, based on our specialized editors' PrestaShop hosting experience and real customers' feedback.
ASPHostPortal.com
Get high performance, best uptime and the most reliable Linux Server for your PrestaShop v1.6.1.7 website with PrestaShop v1.6.1.7 Hosting. PrestaShop v1.6.1.7 Hosting from ASPHostPortal.com provides a safe, reliable and performance-driven foundation for your PrestaShop website. PrestaShop is the perfect Content Management System for managing and developing your website with one of ASPHostPortal's Hosting plans. If you are looking for the right Linux hosting that support PrestaShop v1.6.1.7 hosting provider, they are the right choice for you. They have proactive monitoring down to seconds with reactive solutions in place to ensure the stability of the services they provide. All hosting servers are monitored 24/7/365. They use enterprise software to monitor their entire network infrastructure. Their best and cheap PrestaShop v1.6.1.7 hosting price starts from $2.50 per month.