Best and Cheap Sitefinity 9.2 Hosting
What is Sitefinity?
Sitefinity is a content management system designed by the Telerik corporation. Because it was built with the singular purpose of being a CMS for eCommerce retailers, it features powerful retail-improvement tools that many other content management tools lack. While, according to W3Tech.com, Sitefinity is only used by 0.2% of known websites at present, the user-base it has developed is made up of la creme de la creme of international commerce.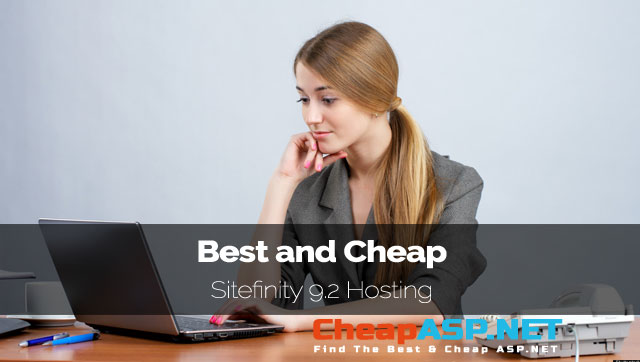 What is New in Sitefinity 9.2?
With new features ranging from advanced personalization to scalability improvements, Sitefinity 9.2 has something to offer to both marketing and technical users. Features include:
Increase Conversions
Leverage machine learning to automatically discover important customer interactions that attribute to conversions. These new capabilities help marketers better prioritize campaigns and focus on optimizing the experience for the touchpoints that will increase conversions the most.
Build Smarter
Functional overlap across sites is commonplace. Site Starter Kits help you eliminate redundant work and ensure quality by leveraging existing sites, including page templates, pages, content, custom code and more, to start new website projects.
Don't Repeat Yourself
Improve productivity and increase speed to market by easily reusing website themes, functionality and content across website projects with Sitefinity Add-Ons. Developers can effortlessly create NuGet-based add-on packages and install them on multiple Sitefinity instances using the latest export and import capabilities.
Streamline Configuration Changes
Making website and content configuration changes in multiple environments often results in conflicts during continuous delivery updates. Sitefinity 9.2 streamlines this process and eliminates potential conflicts by restricting file-based configuration changes on certain environments and storing others in the database, instead of the file system.
Gain Insight
Diagnose problems and measure and optimize performance through Diagnostic Module reports such as HTTP Requests, Background Tasks, SQL Queries, Page Compilations and N+1 Queries.
Know Your Past
Eliminate the recurring headache of trying to trace web page updates back to a specific template change. With Page Template Revision History, you can easily see what template changes were made and revert back to previous versions to resolve any issues.
Make it Fast
Precompiling new or updated pages can reduce load times, decrease server processing and deliver a better customer experience. Now this can be done twice as fast with the improved precompilation tool.
Mark Your Calendar
Easily manage and display events in a calendar view using the latest ASP.NET MVC widget, without custom coding.
Best and Cheap Sitefinity 9.2 Hosting
ASPHostPortal.com as Best and Cheap Sitefinity 9.2 Hosting Recommendation
ASPHostPortal.com was founded in 2008. It has been topping the list of almost all the web hosting review sites so far. Look no further! You have found the answer. ASPHostPortal.com is your Sitefinity 9.2 hosting home! All of their hosting comes with FREE Trial Hosting. If the service does not meet your expectations, simply cancel before the end of the free trial period. No Risk! Why wait longer? They will make sure that Sitefinity 9.2 runs smoothly on their servers and that your website is safer, faster and better supported than anywhere else! Their best and cheap Sitefinity 9.2 hosting plan is starting at $5.00/mo. ASPHostPortal.com is now providing free domain and double SQL server space for new clients to enjoy the company's outstanding web hosting service.