Who is Bluehost?
According to Wikipedia, Bluehost is a web hosting company owned by Endurance International Group. It was one of the 20 largest web hosts in 2015 and was collectively hosting over 2 million domains in 2010.
Bluehost was among those studied in the analysis of web-based hosting services in collaborative online learning programs.
Bluehost sells shared hosting, WordPress hosting, VPS hosting, dedicated hosting and WooCommerce hosting as well as professional marketing services. Their servers are powered by PHP 7, HTTP/2, and Nginx+ caching.
Bluehost: The Pros and Cons
Pros
24/7 customer support: Not every company can boast 24/7 customer support, especially at such a low entry-level price. Bluehost's customer support is there for you as you start your site, and anytime you need extra support troubleshooting site errors that are bound to happen.
One year of a free domain: Possibly one of Bluehost's most appealing features is the free domain name you get for a whole year. This eliminates the extra step of going through a third-party domain seller or investing more money at your site's beginning.
Free SSL certificate: An SSL certificate, otherwise known as Secure Sockets Layer certificate, makes sure to authenticate the identity of your website and encrypts important site information. In other words, it's a must-have for any site you publish. Thankfully, Bluehost provides SSL certification for free.
Quick site setup: With Bluehost, you can easily get your site up and running in no time with their intuitive and guided step-by-step setup. And if you happen to run into any trouble, you can tap into their chat support feature in real-time.
Beginner-friendly: Bluehost is ideal for anyone venturing into creating and maintaining a website for the first time. This is because there isn't a need for advanced web management knowledge or coding when you set up your site through it. To sweeten the deal, they've partnered with WordPress and ensured that installing WordPress is a seamless part of the process.
Cons
Charges for site migrations: Admittedly, when it comes to migration perks, Bluehost isn't necessarily your best bet. If you want help migrating your site, Bluehost charges at least $149 to migrate your site to or from another platform.
Not the best fit for high traffic sites: If you're wanting to scale an already high traffic site and need hosting to meet those specific needs, an entry-level Bluehost plan isn't going to cut it. You can always upgrade to their more expensive managed WordPress tiers.
Is Bluehost Down Right Now?
Ok, back to the topic, "Is Bluehost Down Right Now?". According to my personal experience and results from various sources, whether it's chatter on Twitter, Facebook, or web reviews, Bluehost is often down. Not only this, they have also recently had a lot of complaints from their customers.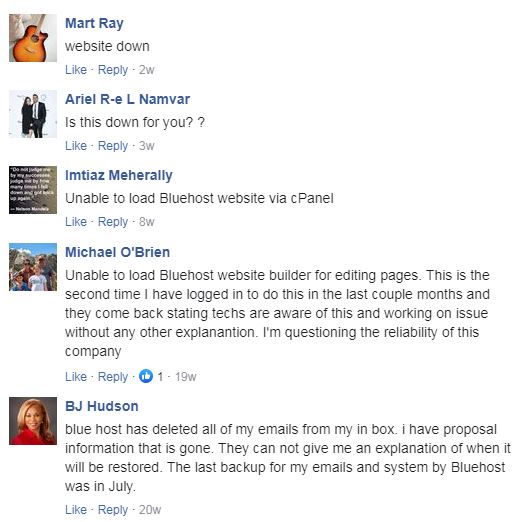 Bluehost is notorious for overcrowding its servers and using bare-bones technology (shared hosting on Apache servers is never a good start). Other than the built-in server caching, there's little to be desired in terms of speed. People in Facebook Groups usually tell you to avoid them.
Frequently Asked Questions
Is Bluehost slow?
Bluehost uses Apache servers with slower SSDs and is infamous for overcrowding servers which can results in a slower website and TTFB. Yes, Bluehost is slow compared to many other hosts especially if you're on their cheap shared hosting which lacks server resources.
Why is my website slow on Bluehost?
You may be running outdated PHP versions, slow plugins, or have unoptimized images, fonts, and third-party code. While it's obviously best to optimize these, your website could very well be slow because of Bluehost's servers.
Why is my server response time slow on Bluehost?
Servers are controlled by your hosting, so this would be a problem directly related Bluehost. You may need to upgrade plans to include more server resources or move away.
Is Bluehost's DNS slow?
Bluehost doesn't have the fastest DNS and you're better off switching it to Cloudflare's free DNS which has reliable performance and uptimes which you can see on dnsperf.com.
Why is my Bluehost email slow?
When you combine web/email hosting together, the server is responsible for both which can slow these down. This is why using a third-party email hosting service is a good idea.
These are the best Bluehost alternatives for your site
Bluehost is a beginner-friendly hosting provider, known for its WordPress integration and affordable shared hosting plans. But if you're looking up Bluehost alternatives, you're probably more concerned about what Bluehost doesn't do so well. If your top priority is value for money, cool site features, or impressive uptime, then it's worth weighing your options before committing to Bluehost long-term.
We've tested the best Bluehost alternatives ourselves, and covered them in detail here so that you can make an informed decision.
The top 3 Bluehost alternatives are ASPHostPortal, InMotion, and HostForLIFE.eu. Of these, the best choice depends on what you're looking for: ASPHostPortal has unbeatable uptime, InMotion has the best features, and HostForLIFE.eu offers great customer service.