Media Temple is one of the big players in web hosting. They host 1.5 million websites for 125,000 members. Their mission is "to help web developers, designers, digital entrepreneurs, and innovators bring their ideas to life online."
Media Temple invented a unique clustered architecture of servers called "The Grid" which is designed to improve speed and uptime for shared hosting. The Grid also allows for quick setup and easier scalability — which is critical if your site takes off.
So… What's Happening to Media Temple?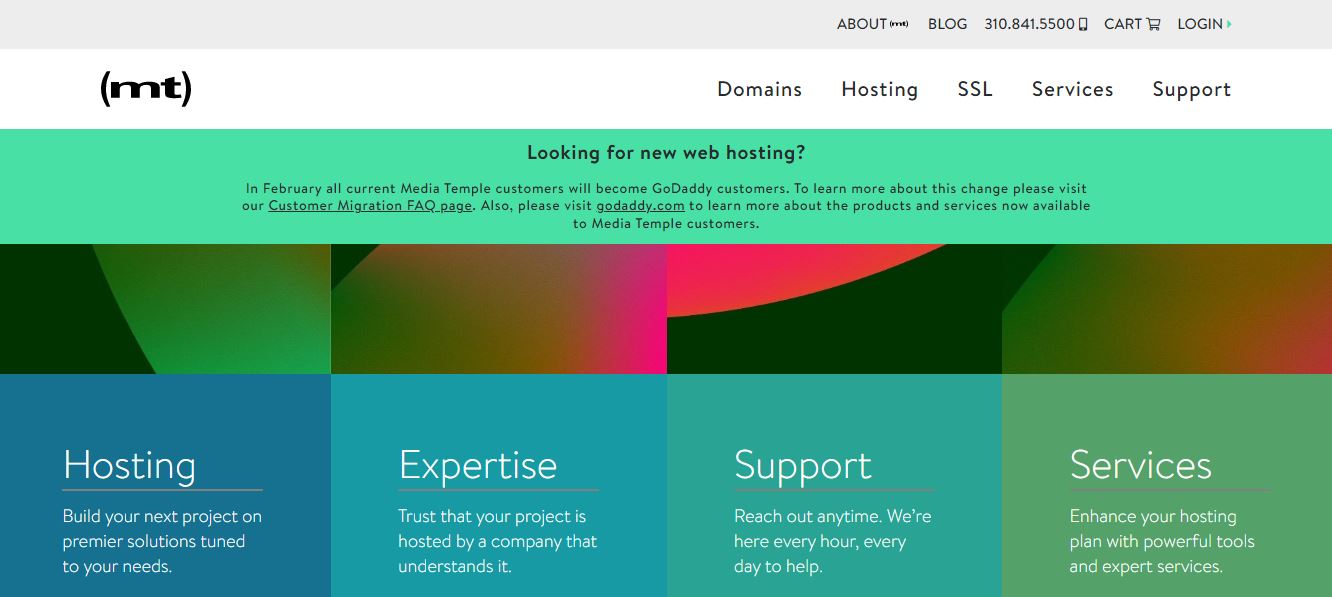 Looking for new web hosting?

In February all current Media Temple customers will become GoDaddy customers. To learn more about this change please visit our Customer Migration FAQ page. Also, please visit godaddy.com to learn more about the products and services now available to Media Temple customers.
This is what they say on their FAQ page:
Media Temple is committed to providing our customers with the best products, services, and support. Although we've done a lot of work over the last 2 years to improve all of these areas, we still have a long way to go when we look at the experience we want to provide our customers. As such, we've decided the best thing for our loyal customers is to provide them access to the world-class experience provided by GoDaddy by migrating their accounts and products from Media Temple to GoDaddy in January 2023.
This left their loyal customers disappointed and several expressed their dismay on Twitter:
Many disapproved of them selling it to Godaddy. Well as we know Godaddy is not a good hosting service provider. Well they're famous, but they're no good. There are many problems with their hosting service and performance. So it's certain that former Media Temple customers will be disappointed by the move.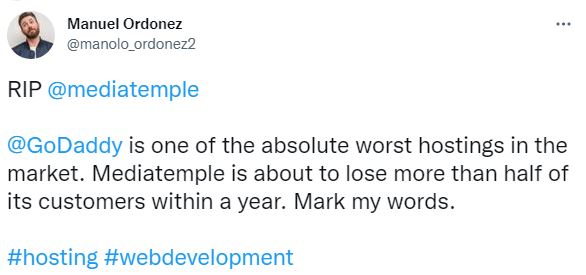 I don't know, maybe because of the sudden announcement, Media Temple became very busy and very difficult to contact. Many customers are disappointed by this. What's more the panic that arises because they know they will be transferred to Godaddy.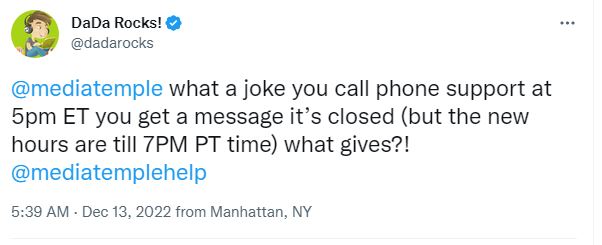 And suddenly Media Temple was in a lot of trouble. Moved to Godaddy, hard to get hold of and had lots of issues. So now many are wondering where should they migrate their hosting?
So Where Should I Migrate?
When it came time to consider the best alternatives, one of my top considerations was whether the host could offer a variety of hosting plans to support most websites, e-commerce stores, and web apps. I also looked for the following features:
Affordability. One of the first things you can't overlook about Media Temple is its above-average prices. But expensive doesn't necessarily mean better, and the alternatives on this list prove it. You can get better quality hosting at a much lower cost.
Helpful customer support. It may have once been great, but stories about Media Temple's unimpressive customer service suggest that this era may be over. I've had customer service interactions with all the hosts on my list, so I know they offer reliable customer support through multiple channels.
Data centers in more locations. Media Temple's servers are based in the US, which might be good if your site visitors are in North America, but not so great if your audience is elsewhere. I only considered hosts that could offer fast loading speeds in at least two or more regions.
Performance. Since frequent downtime and server timeouts seem to be some of Media Temple's major drawbacks, I've chosen alternatives that provide stable uptime.
ASPHostPortal specializes in almost every kind of hosting solution, including shared, WordPress, cloud, reseller, and dedicated servers. It delivers its services through its data centers located in the US, the Europe, and Asian.
Starting at $5.00, ASPHostPortal's shared hosting plans are much cheaper than Media Temple's plans, and they also include many more features. These include a free CDN integration and SSL certificate, website staging, site migration, site builder, and unlimited emails.
Like all hosts on this list, ASPHostPortal's customer support is available 24/7. You can contact them via support ticket. There's also a comprehensive knowledge base that contains hundreds of articles and tutorials covering most major topics.
I like how ASPHostPortal allows us to prepay in 3-month installments so that you can try the service with little risk and see if it is right for us. Even then, we'll have access to a 30-day money-back guarantee if we don't like the service and choose to cancel within the first 30 days.
Although ASPHostPortal is a popular web host and has many 5+ year clients, we've had trouble finding recent reviews (forum threads specific to ASPHostPortal reviews), either positive or negative, in the past two years on google and web hosting forums. I did, however, find many discussions where their clients are actively recommending this service to people that need Windows ASP hosting.
ASPHostPortal uses 12 world-class data centers located in Washington D.C., Toronto, Amsterdam, London, Paris, Frankfurt, Milan, Hong Kong, Singapore, Melbourne, Chennai, and Sao Paulo. These facilities feature redundant, high-speed network connections, and high-tech cooling and fire-suppression systems. They are staffed 24/7/365 by certified administrators and network engineers.
100% website uptime is assured by DNS failover that monitors customers' websites for failover from multiple geographic nodes. When a website fails to load, ASPHostPortal will automatically change the DNS records to reroute traffic to a backup IP address or server. This is a paid monthly service.