Best and Cheap Moodle 3.1.1 Hosting
What is Moodle?
Moodle (Modular Object-Oriented Dynamic Learning Environment) is a free open-source learning management system or e-Learning platform, that serves educators and learners across the globe. It is the most widely used LMS in the world and currently has over 68 million users world-wide (and growing!). Moodle is a learning platform designed to provide educators, administrators and learners with a single robust, secure and integrated system to create personalised learning environments.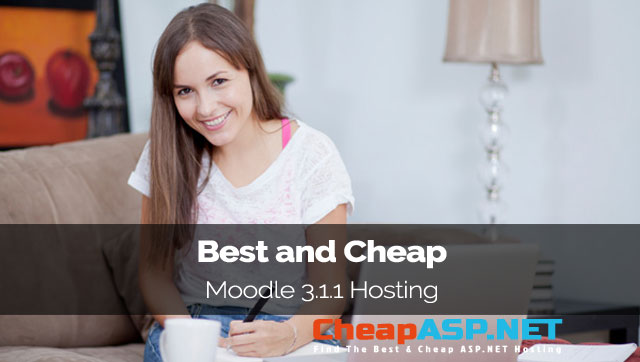 What is New in Moodle 3.1.1?
Highlights
MDL-41922 – Completed quizzes no longer appear in the Course overview block for students
MDL-54165 – Allow to hide the document preview in assignment grading interface
MDL-41945 – Do not overwrite submission with an empty filearea when several team members edit the same assignment
MDL-49852 – Mark assignment as completed for all students in the team when one student from the team has made a submission
MDL-29905 – Fixed the bug when deleting empty quiz category was showing an error that it has questions
MDL-46721 – Assignment blind marking: participant number in the notification email matches the number on the submission
MDL-45427 – Database activity: When creating a template clicking on the tags should add it to the textarea when Atto editor is used
MDL-35104 – Allow to change username of a user registered under LDAP authentication method
MDL-51806 – Workshop: allow to save edited settings when using comma as a decimal separator
MDL-43887 – Fixed bug when handling optional date/time custom user profile field with date range starting later than 1970
MDL-35987 – Do not abort restore process in case of multichoice question error 'Backup error: invalid input syntax for integer: ""'
Fixes and improvements
MDL-55020 – Fixed bug when installing plugin downloaded from github repository
MDL-54909 – Show different background from page when annotating PDF
MDL-53111 – Allow to unmark completion criterion 'Require end reached'
MDL-37138 – When clicking a URL in chat, it should open in a new window or tab
MDL-54997 – Activity completion for a competency should be attached to course competency and not the learning plan competency
MDL-54934 – Accessibility enhancements: Indicate phase name/form name on the Workshop title
Security issues
MSA-16-0019 Glossary search displays entries without checking user permissions to view them
MSA-16-0020 Text injection in email headers
MSA-16-0021 Unenrolled user still receives event monitor notifications even though they can no longer access course
For developers
MDL-53019 – PHP 5.6.5 or higher is required for development on master branch
Best and Cheap Moodle 3.1.1 Hosting Providers
We have reviewed more than 100 web hosting companies and found that ASPHostPortal.com, UKWindowsHostASP.NET and DiscountService.biz are the best, each of which has been selected in the collection of top 3 web hosting providers. In below, we have made a table to list their main highlights and written a review to explain why they are the best.
ASPHostPortal.com
$5.00/mo
Host Unlimited Site
5 GB Disk Space
60 GB Bandwidth
2 SQL Server @ 200 MB
3 MySQL @ 200 MB
UKWindowsHostASP.NET
£5.50/mo
Host 50 Sites
5 GB Disk Space
50 GB Bandwidth
1 SQL Server @ 200 MB
2 MySQL @ 200 MB
DiscountService.com.au
$7.00/mo
Host Unlimited Site
2 GB Disk Space
20 GB Bandwidth
1 SQL Server @ 100 MB
1 MySQL @ 100 MB
Cheap Moodle 3.1.1 Hosting US – ASPHostPortal.com
Having been in the industry for many years, ASPHostPortal.com has been followed by a large amount of webmasters all over the world. To ensure reliable and fast hosting service, this company equips its data centers with high quality Dell servers and armed security. In addition, this company utilizes Max Speed Zone technology and SSD to speed up their customers' websites. In addition, technicians are monitoring the network and servers 24×7, guarantee customers are able to run website rapidly. Their Moodle 3.1.1 hosting plan start from $5.00/mo only.
Best Moodle 3.1.1 Hosting UK – UKWindowsHostASP.NET
UKWindowsHostASP.NET is one of the most developer-friendly web hosting providers, fully trusted by many developers. This company is famous for offering piles of useful developer-friendly features at a well-balanced price. Main features extremely for developers are Moodle 3.1.1, ASP.NET 5, PHP 5.6.x and much more.
Reliable Moodle 3.1.1 Hosting Australia – DiscountService.biz
Offering both Linux and Windows hosting services, DiscountService.biz has been voted as one of the best Windows hosting companies. To ensure Movable Type users install this software easily, DiscountService.biz offers a SimpleScript 1-click script installer, with which the software installation can be finished by just clicking the mouse a few times, within 1 minute.
Why You Should Use Moodle?
Moodle is Free
Moodle can be downloaded freely in its official site, moodle.org. Since it is an open source software, its development is revolutionary rather than evolutionary. Programmers, developers, and users around the world are working free towards the improvement of Moodle. Unlike other freewares, Moodle offers full functionality, 24/7 support in moodle.org forums, and simply best value for money because it is free.
Moodle is Easy to Use
Whether you are an administrator, educator or learner, you will find Moodle easy to use due to its graphical user interface which we are all familiar with. For example, you can include like a quiz in a given topic by choosing from the list of activities under the activity menu. Not to mention the icons specifically created to understand better the nuances of course creation under the Moodle environment. The eye icon hides and unhides a particular resource or activity. The up icon moves a resource or activity within the lesson up. It means you don't have to be a programmer in order for you to use it but you need to invest some time in order for you to familiarize and get the hang of navigating yourself in the Moodle environment.
Moodle is Intuitive
Due to its ease of use, many of its functions are geared toward student learning thus Moodle was designed with educators in mind. With the vast array of options to enhance learning, teachers find it very helpful.
Moodle is Integrated
The learning resources, activities and features are modular which means it can stand alone but they are also designed to complement each other. Examples are: the default news forum can be complemented with the calendar which is offered as an optional block. Resources like text and web page can be complemented by uploading files like podcast to enhance the learning experience of your students.
Moodle is Multi-functional
The Moodle environment offers feature rich elements starting with the block elements like calendar, student activities and text upto activities like chat and forum and wikis. Since it is not exclusive unlike commercial softwares, Moodle supports operating systems like Linux and its other versions. Moodle can be used also as a project collaboration site, news website, school portal, and the list of possible uses is limited only to the users imagination.