What's New in Umbraco 7.3? – Best and Cheap Umbraco Hosting
What is Umbraco?
Umbraco is an open source web content management system that was originally developed by Niels Hartvig around 2003. It runs on Microsoft's ASP.NET technology and uses a sql server database for storage. Unlike many content management systems, Umbraco has been designed to be easy and intuitive to use by site editors.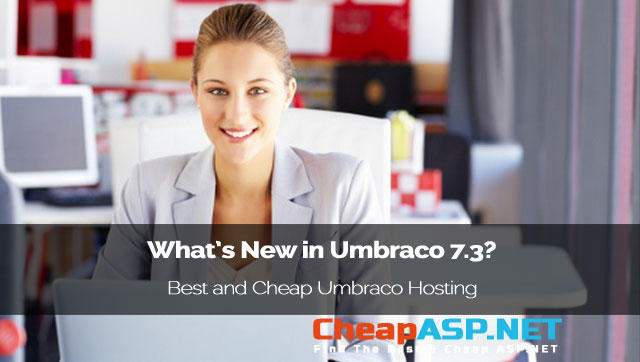 What is New in Umbraco 7.3?
The Umbraco 7.3 is a release candidate of Umbraco. This release will use MVC5 and WebApi2. The upgrade to MVC5 promises some new features and performance updates but most of all, it will allow us to follow along with the regular bug fixes that the ASP.NET team is doing on them. The other thing that people care about is ease of development and unfortunately you have a lousy experience with MVC4 in Visual Studio 2015. So, this 7.3 version will be more powerful than 7.2.x. Prepare to backup your database, and move to Umbraco 7.3.
Best and Cheap Umbraco Hosting Providers
There are many hosts out there that will meet the software and server requirements; however, software is only the beginning of the actual list of requirements. You need to find a host that works on high power server hardware, which includes at least 2 CPUs having 4 cores each, adding up to 8 cores. Your hard disk needs to have a RAID 10 configuration with a minimum of 8 GB RAM. This will ensure your site's high speed. Now, there are several Umbraco web hosting companies featuring the above-mentioned hardware; however, the trouble with them is overselling, which will slow down your website. So you need to get an Umbraco host that guarantees not to oversell.
Umbraco 7.x System Requirements
To ensure a stable and smoothly running Umbraco installation, these permissions need to be set correctly.
IIS 7+ (II6 will not work because .NET 4.5 is incompatible with Windows Server 2003)
SQL CE, SQL Server 2008 and higher or MySQL (must support case insensitive queries)
ASP.NET 4.5 Full-Trust
Ability to set file permissions to include create/read/write (or better) for the user that "owns" the Application Pool for your site (NETWORK SERVICE, typically)
Many people opting for Umbraco hosting tend to believe that the best Umbraco hosting must be expensive. It is agreed that hosting a Umbraco based site will need more resources than the normal HTML one, hence Umbraco hosting being more expensive. Luckily for all of us, this may not be the case all the time. If you search the Internet carefully, you will find some quality Umbraco hosting platforms that come under $10 per month. See the best and cheap three Umbraco services listed below.
As performance and reliability can directly affect the site traffic and quality, ASPHostPortal.com uses constantly-innovated technologies and facilities. For example, it applies IIS Manager Access, WCF RIA services, ASP.NET Ajax, Silverlight, Full Trust, isolated application pool, etc. In regards to the actual network condition, this company has been keeping a good and reliable record of speed and uptime. According to our testing data, ASPHostPortal.com uptime far surpasses the guaranteed 99.9%. Their best and cheap Umbraco hosting is beginning at $5.00/mo.
DiscountService.biz offers Umbraco hosting. They offer flexible Umbraco hosting to new as well as existing customers. Given the scale of their environment, they have recruited and developed some of the best talent in the hosting technology that you are using. Their team is strong because of the experience and talents of the individuals who make up DiscountService.biz.
UKWindowsHostASP.NET prides itself in providing web hosting with a rare combination of unmatched reliability, quality and affordability. UKWindowsHostASP.NET's edge is derived through unparalleled company management and a culture of employee driven initiatives. With their fully support on Microsoft Windows and ASP.NET, UKWindowsHostASP.NET is the best choice to host your Umbraco Hosting. They are so confident in their hosting services they will not only provide you with a 30 days money back guarantee, but also they give you a 99.9% uptime guarantee. Their Umbraco hosting plan is starting from €3.00/mo.